Tomorrow will be your last chance to SAVE and WIN at the Secret Garden Shop! Lots of $1 deals and new products.
1-$10 coupon and 2-$5 coupons to be given away May 18th!! See store for details by clicking on the ad above.
ANNOUNCEMENT!!
Celebrating 1 year with Scrap it Sassy!! Boy, the time really does fly by! In honor of the occasion I have marked all my products down 50% and have a special offer for YOU!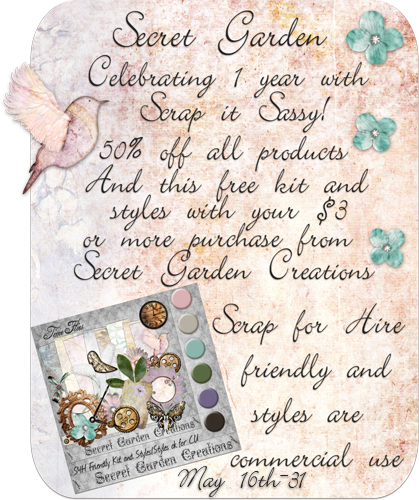 Add this Scrap for Hire friendly kit, 'Time Flies', and scrap for hire and commercial use ok set of styles to your cart along with $3 at check out and enter the code sgc-1year to GET THIS FREE!
Thanks for stopping by and have a FANTASTIC weekend!