I hope everyone is enjoying this Christmas holiday! I also hope that you all are looking forward to a great new year! I don't make new years resolution because I tend to be more impulsive with things like quitting smoking and losing weight. I was a smoker til about June of this year. After months of torturing with the thoughts of how hard it was going to be I woke up one day and said, "This is going to be the day!" With that, I have not picked up another cigarette! I am hoping that I will get tired of the few unwanted pounds I wish to shred and be able to do the same. We will see what this next year brings when it gets here ;)
With that said, I'll move onto the SALES, NEW STUFFS and FREEBIES!! YAY! Here we go;
First of all, my sales are still on til December 31st! You can find my $2 sale on ALL products
HERE
and
HERE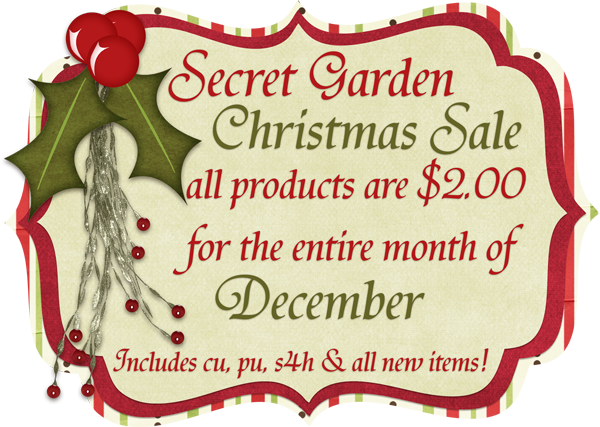 here is an extra special offer only available
HERE
Get approximately $500.00 or more worth of digital
goods. This includes Commercial, Scrap for Hire, Personal use too
and you can get it all for only $35! Click the image to go purchase
and

HERE

to see my store.

Here are my newest additions:
My lyout with this kit is of my 2nd son's first day of kindergarten. He is now 12 as of December 11th and is in 6th grade, middle school.
More new and these are commercial use:
Someone has so kindly pointed out that I made a spelling error on my kitty bookmark below :( I usually try and be more careful but I seemed to be in too much of a hurry to get things done today! Thanks for pointing that out, I'll be sure not to print that for my kids until I fix it, LOL
And here is a Christmas freebie for everyone! You can use them for personal, scrap for hire or even commercial use so long as you decorate using your own graphics before resell.
You can grab it
HERE
and the password is
sgc-give